News:Tourweaver 7.70 is finally released,totally free update for 7.X users.
Virtual Tour Software
As the industry leading virtual tour software, Tourweaver 7 is newly designed to perfectly support Flash 11 Player Engine, 3D object, Google maps, Multi-resolution, Gyroscope effect, multilingual tour, as well as tons of features inherited from its predecessor. With this version of
360 virtual tour
software, you can share your virtual tour onto your Facebook withn program and publish HTML5 format virtual tour for your iPhone and iPad. Full featured virtual tour software
free trial version
is also provided as usual.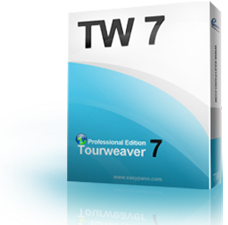 360 degree virtual tour
made by virtual tour software is widely used in real estate presentation. Just staying at home with their PC, the tenant and buyer can view the house in all directions. In this
Real Estate Virtual Tour
, the mostly applied features are the Plans, Radar, thumbnails, and hotspots. Some user prefers to put the flash puppy on the floor, or embed video on their television, or even decorate the wall with their favorite paintings.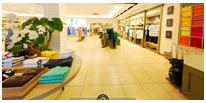 Store Virtual Tour
Virtual tour is the good way for both online and off-line shopping. In shopping center or the fashion store virtual tour, customers may view the nice shopping environment and commodities shown in detailed photos or 3D images. They can promenade from on shop to another, and watch the fashion show for each brand, see the details about their favorite costume. Using virtual tour software is really an effective way to facilitate the trades.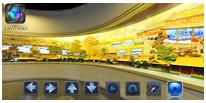 Museum Virtual Tour
About Museum Virtual Tours, more details about exhibits seem more important. Apart from the normal virtual tours inside and outside the pavilion, more exhibits can be perfectly shown by virtual tour software, which combines the traditional exhibition and virtual tour together. Virtual tour software can show you details of historical relics by clicking on images. Clicking 3D Object, you can view the shape, color and volume etc. of these handicraft articles..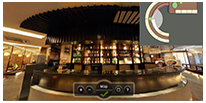 Restaurant Virtual Tour
Sometimes, the dinning environment and menu are what clients care about. Through virtual tours software designed restaurant virtual tour , you can show the guests your Art Deco style in the banquet hall, catering boxes. You may also attach the menu to introduce you cuisines in detailed images or even your senior chef who is cooking in your clean kitchen, which will help the guest to book restaurant tables and order the delicious dishes.


Virtual Tour of the Month on EP-SKY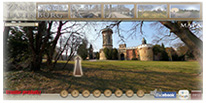 Schlosspark laxenburg
by Miro
EP-SKY, the panoramic images and virtual tours sharing platform, provides FREE virtual tour elements and recommend the most popular virtual tour to all hobbyists.