Set Image Edit
Image Edit includes Photo crop and Masking.
1. Masking
Removing tripod is a very powerful and useful function for removing tripod automatically but if the object you want to remove is not in the bottom of the panorama,Masking is a very powerful tool to create perfect panorama.

Look at the red circle in the panorama, you will see a man is partly visible .The reason would be when shooting fisheye photos he was walking or moving .if you want to remove it or let it perfect visible . You can use masking to make it. Generally speaking, moving objects when shooting can cause stitching problems like the panorama above.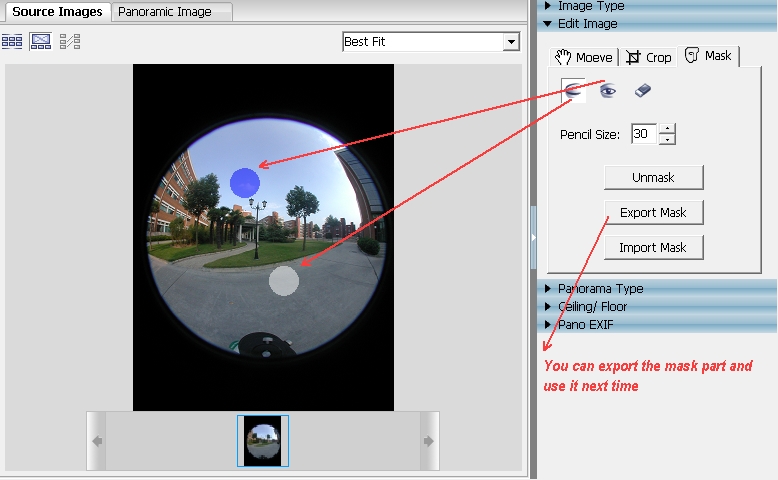 Masking in panoweaver8 can be used to prevent these problems. You can tell the blender precisely which part of the images should or should not be visible in the blended panorama.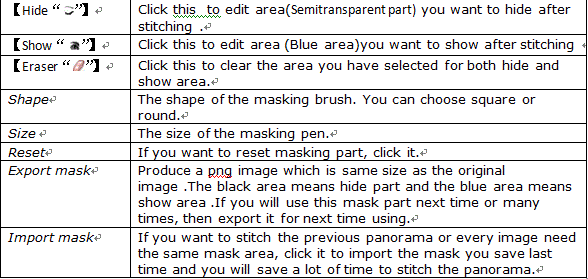 1 Click   

to begin masking setting mode.
is editable as default .
2 Semitransparent area (1) :Hide area means part of this image will hide after stitching.
3 Blue area (2): show area means this part should be shown after stitching.
2. Move
Click   

you can view the both hide area and show area, and also to move the image position to adjust it to the best fit.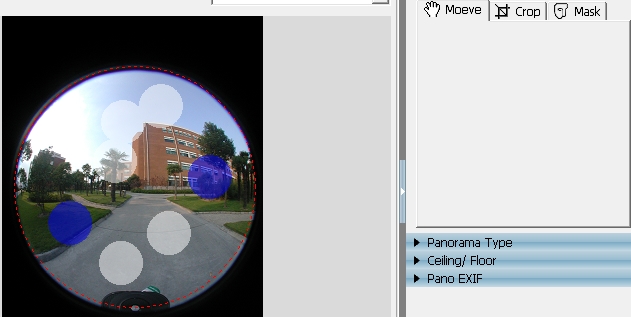 3. Crop
If the source images are fisheye images, you also need to set fisheye image enclosing:
This is an important step to get the high quality panorama for fisheye images. This function is only applicable to drum and full circular images.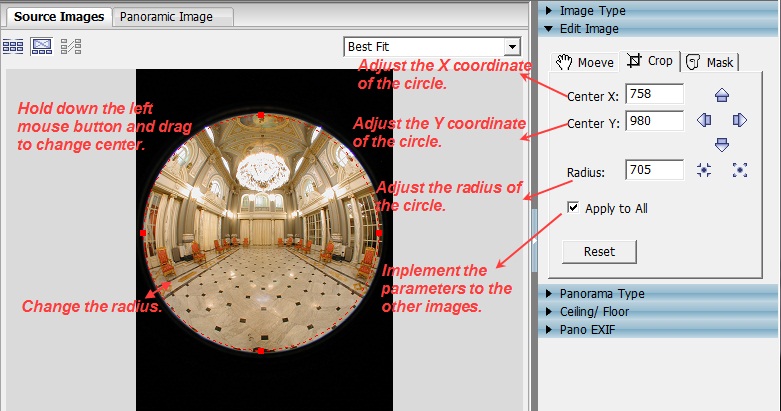 Basic Steps:
Select an image and zoom it to proper size in Image Show and Operation Area.

Drag the yellow circle properly around the fisheye image in the panel to change radius. Press Ctrl+Left Mouse Key to change center.

Adjust Center X, Center Y, Radius to locate the yellow circle around the fisheye image, no more and no less. Center X stands for the x coordinates of the enclosing. Center Y is the y coordinates of the enclosing, while Radius refers to the circle's radius. Click , yellow circle moves up; click , yellow circle moves down; click , yellow circle moves left; click , yellow circle moves right; click , yellow circles zooms in; click , yellow circle zooms out.

Generally, if a group of fisheye images are shot with the same equipment, the setting parameters of one image are applicable to the other images. After you adjust the yellow circle, you may select Apply to All Images to implement the parameters to the other images.
Tip: If you want to use parameters of the latest fisheye image as initial value in new image, please select Last Used in Advanced Settings. Panoweaver will apply the parameters to current image. Usually, the default item is Auto-calculated, that is, Panoweaver will select the location and size of yellow circle automatically whenever you import fisheye images. For details, please refer to Advanced Settings.