Advanced Settings
Select
Tools>Advanced
Settings, and Advanced Settings dialog box will pop up. You are able to set general parameters and apply
Smartblend
plugin.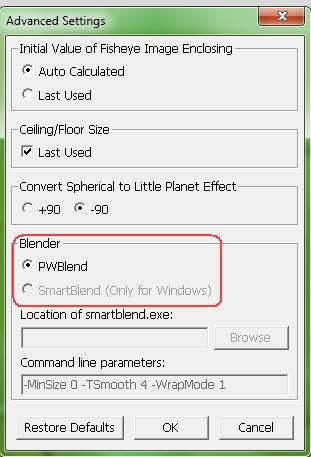 Initial Value of Fisheye Image Enclosing:
If you select
Auto Calculated
,
Panoweaver
will calculate
Fisheye Image Enclosing
automatically; If you select
Last Used
, then Panoweaver uses values used last time as initial value.
Ceiling/Floor Size:
If
Last Used
is selected, Panoweaver will use the value you set last time. If the checkbox isn't ticked, the default value is 30.
Little Planet:
If you choose +90, the view angle is from top to bottom .While, if you choose-90, the view angle is from bottom to top.
Blender:
Blender determines which application will be used for
(Blending is the process of merging the warped source images into a single panoramic image)
blending and attempts to create a seamless overlap between images. Panoweaver includes its own blender-
PWBlend
, which is sufficient for nearly every
panorama
. Additionally, the other blending plugin is supported as well:
SmartBlend
. Set SmartBlend plugin in the popup window by clicking on button "Browse" . You could use
SmartBlend(Smartblend is an application for seamless image blending. Main goal of smartblend is panoramic image blending, but it can be used for others, for example seamless texture creation, montage of photos, collage. Smartblend allow stitching many of "problem" shots (paralaxed, with moving objects or exposure difference). And the function of the smartblend plugin is to allow the client who requires the blending of Smartblend to stitch images or panoramas using it as a plugin. For more information, please visit http://smartblend.panotools.info)
as a plugin for stitching in this section. For more info regarding the blending plugin, please visit
http://www.easypano.com/showkb_285.html.