Flash VR
Loading Window: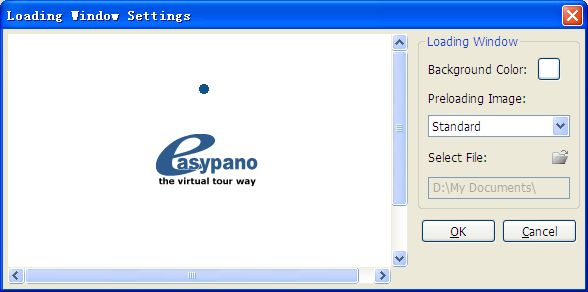 Background Color:
Set the background color of loading window.
Preloading Image:
It allows users to modify or set preloading image. To set the style of preloading image among None, Standard and Custom.
Select None. It indicates there's no preloading image in Loading Window.
Select Standard. The default preloading image will appear in Loading Window.
Select Custom. You could customize a preloading image. Click to select a file you like (supported formats: .swf, .jpg, .bmp, .gif).
Click the hyper text Settings and a dialog box will pop up. You are able to customize
Loading Window
.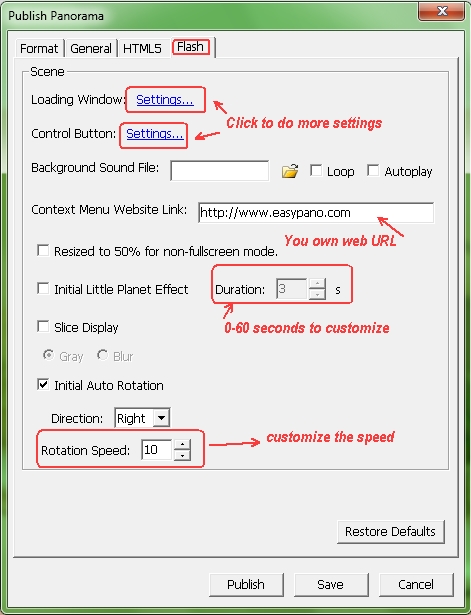 Control Button:
To set toolbox, buttons and their position on scene viewer. Click the hyper text
Settings
and a dialog box will pop up.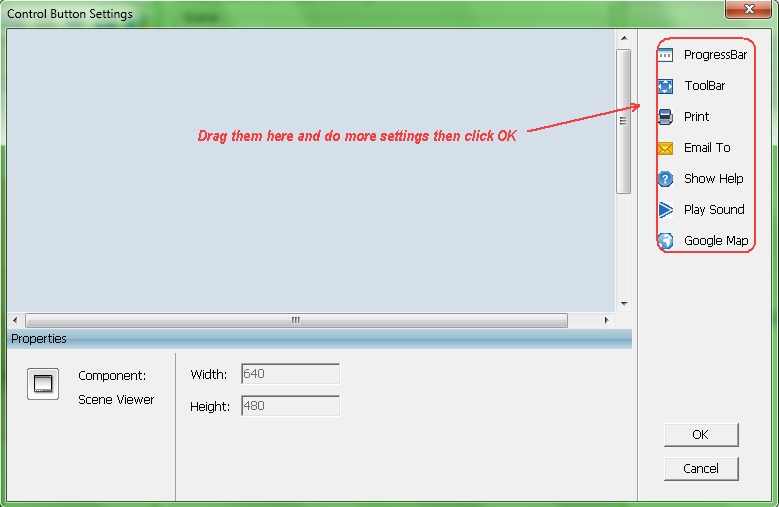 The components like
Progress bar, Toolbar, Print, Email To, Show Help or Play Sound
can be added to scene viewer.
Add Components to Scene Viewer
1. Click a certain component from Toolbox. 2. Click the blank part of Main Window to place the component.
Note:
Each component can only be added once.
Delete Component
Select a component in scene viewer, and then click Delete.
Set Properties for Components
To set progress bar style.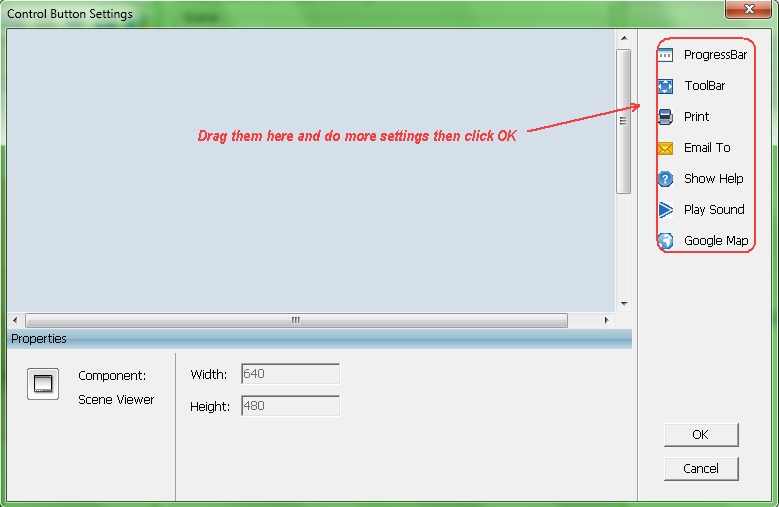 To set the style of the progress bar in Standard, Custom (only for pro and batch edition) or None in Standard edition (None indicates progress bar and percentage loaded are not displayed; Standard indicates displaying a standard bar and percentage loaded; Custom: You could import a progress bar with .swf format.)
Display Percentage Loaded: If selected, the progress bar will display the loading percentage, if not selected, the loading percentage won't be displayed.
Width/Height represents width and height of progress bar.
Bar Color represents the color of progress bar.
Container Color represents the color of container.
Set Properties for Toolbar
To set its position and import a toolbar style.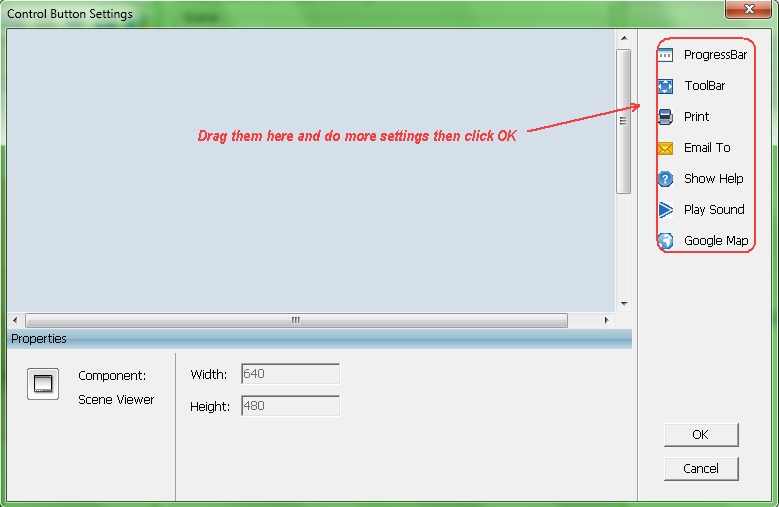 Set Properties for Print
To set its position, image and hint.

X/Y: To set Print button position or just drag the button in Scene Viewer to adjust its position. Image: You can also customize the Print button appearance by importing three images for the three states of the button. Each button possesses three states including normal state, over state and down state. When you select xx_1.jpg as the image for normal state, the program will search xx_2.jpg and xx_3.jpg in the same folder automatically; and add them as the images of over state and down state. Therefore you may use the same prename for the three state images like xx_1.jpg, xx_2.jpg and xx_3.jpg to save your time when importing them. Hint: If you want some hints to appear when putting mouse over the button, you can input the tips here; and you can also customize font, size, color etc.
Set Properties for Show Help
To set info image for
panorama
.

As to settings for X/Y, Hint, Image, please refer to Print properties setting. Source File: To import an image file.
Set Properties for Play Sound

As to X/Y, Hint settings, please refer to Print properties setting.
Image:
Type of Play Sound button is toggle button, so two sets of images are required. You can customize play image and stop image of the button
Background Sound:
Add background sound for the panorama. If Loop is selected, the sound will be always repeated.
Autoplay:
to set whether to play sound initially.
Context Menu Website Link:
To set URL link on the right click context menu of player after published.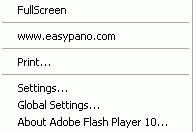 Resized 50% for non-fullscreen mode:
If selected, the scene viewer will play the
panoramic image
in reduced size (50% of original panoramic image) in the normal mode compared with the full screen mode. If not selected, the panoramic image played in the scene viewer is of original size both in normal mode and full screen mode.
Slice Display:
Refer to Slice Display in
Easypano Virtual Tour Player
section.
Initial Auto Rotation:
Refer to Initial Auto Rotation in Easypano Virtual Tour Player section.
Rotation Speed:
You may set the rotation speed of panoramic image. Default speed is 20 frames/ second. Click the thumbnail below to view the
Flash panorama
.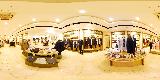 Note: Please download and install the latest version of Flash 9 player if you cannot view the panorama.