Main Photography Equipment
http://www.easypano.com/pw6-equipment.html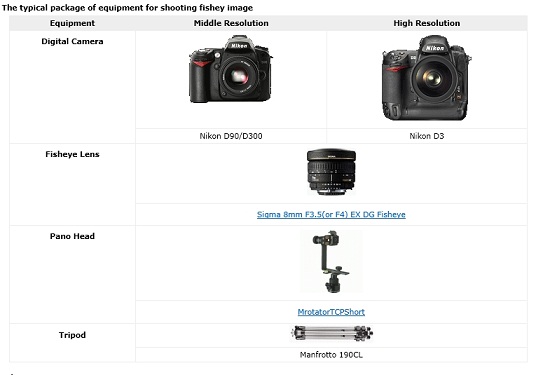 Digital camera (abbreviation as DC): Theoretically, both digital camera and film camera work with fisheye lens to shoot fisheye images. However, Digital cameras are much convenient since the images can be transferred to computer directly without scanning the negatives as film camera. So digital camera is better. Recommended: Nikon D70, D100 D7000 and Canon 10D, 20D and 300D 500D 600D.
Fisheye lens: Fisheye lens can capture an FOV (field of view) of over 180 degrees. A panorama can be stitched from 2 or more fisheye images. Sigma 8mm F4 EX DG Circular Fisheye lens is recommended.
Pano Head: Also known as Panoramic Tripod Head or Rotator is installed on a tripod when shooting to eliminate the displacements between fisheye images so that the panorama can be stitched seamlessly. Different pano head matches different DC. The pano head from Kaidan, Agnos and Manfrotto are compatible.
Tripod: A tripod is an adjustable three-legged stand used for supporting photography equipment when shooting. Because fisheye lens covers a wide range of shooting area, it calls for tripod with a not-too-long handle; otherwise, the long handle will cover a wide area in the stitched panorama and is difficult to be erased. Stableness of the tripod is also important. The tripod from Manfrotto and Bogen are recommended.
Recommended: DSLR + Sigma 8mm lens and stitch 4+T drum fisheye image.