Movie REC Panel
Introduction to Movie REC panel and Frame
Movie REC panel is the place where the movie is recorded. The panel is closed as default. If you want to edit movie, you have to click the MovieREC button

which is right below MainWindow tag. Then the panel will be opened automatically and the scene viewer becomes a movie window. The panel is shown as below: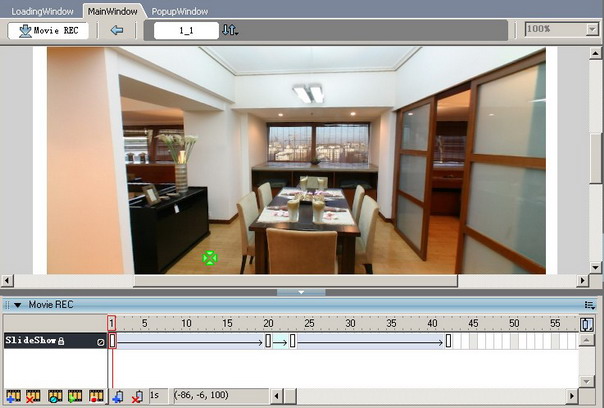 | ICON | Feature Description |
| --- | --- |
| | Create a new movie |
| | Delete the selected movie |
| | Play the selected movie |
| | Export the selected movie as a video |
| | Add a frame to the current movie |
| | Delete a frame from the current movi |
Movie List: To display all the movies in the current project.
Time Line: Marks the time position of each frame, the TimeLine is a scale on which time point is shown every 5 seconds. Each small scale stands for 1 second.
TimePoint: It is used to coordinate the timing between the frames.
Frame Area: To show all the frames in the current movie.
Condition
Display way between the two frames
Illustration
At a certain movie
The two frames are in the same scene
Time space>=1
The two frames are connected with an arrowhead line
No time space
The two frames are connected with a single line
The two frames are in different scenes
Time space>=1
The two frames are connected with an arrowhead line and the background color is blue
No time space
The two frames are connected with a single line