Add Hotspot on Scene
To make virtual tour more interactive, you can add multiple hotspots on scene. For example, if you want to associate different scenes more closely, then you can add several hotspots linking to other scenes. What's more, you can also add hotspot to link to a popup image by adding pop up image action to it. You can find this action in Misc, see Pop up Image in Misc.
Tips<: To add hotspot on scene, please double click the scene viewer. You can adjust the initial value of pan, tilt and FOV of the panorama in Immersive view with a WYSIWYG effect.
Hotspots can also be added to maps, see Add Hotspot to Map.
How to Add hotspot on scene
1. Go to scene tag under List panel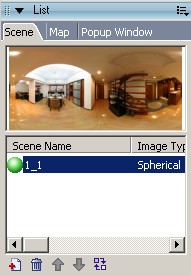 2. Double click the scene on which you want to add hotspot. Then this scene is displayed in Scene Viewer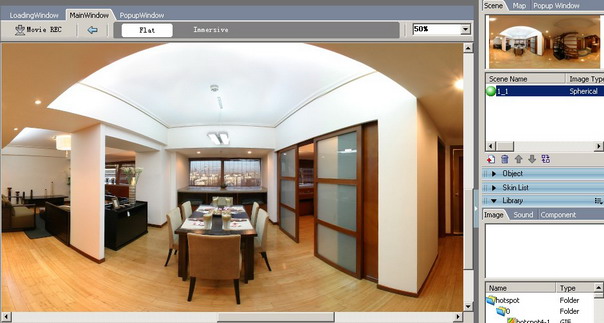 3. Click Toolbox and select hotspot

4. Go to scene viewer and place the hotspot onto the scene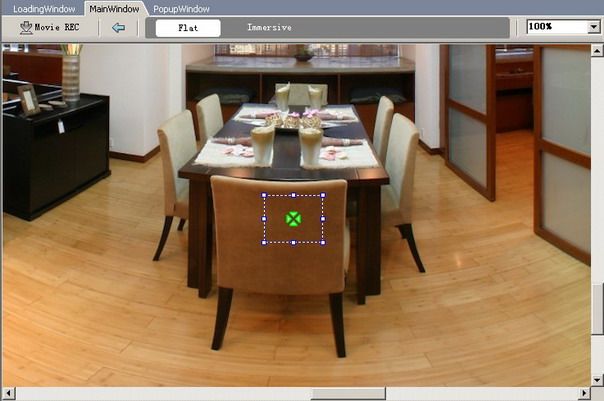 5. Set hotspot appearance under its properties panel
6. Add relative actions to the hotspot like Link to scene or Pop up Image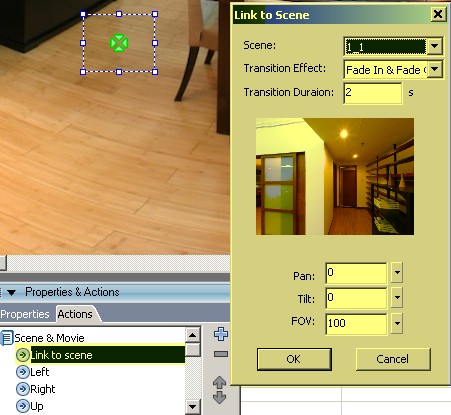 Note: Tourweaver7 adds another adding Hotspot method:right click scene in Immersive state >it will come out like bellow: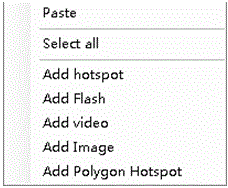 Choose add hotspot, add Flash,add video, add image and add polygon hotspot .
Tips: You can change the size of the hotspot and change the position of the hotspot by dragging hotspot .When you want to drag hotspot, put your mouse on hotspot and drag it. You can also click up left

to add hotspot in full screen state by right click adding hotspot. After you add hotspot, click Esc or click up left

to back from full screen.
Switch to Other Scene
When adding Link to scene to scene hotspot, you can make settings to link to other scene and the relative transition effect by the setting window which is as below: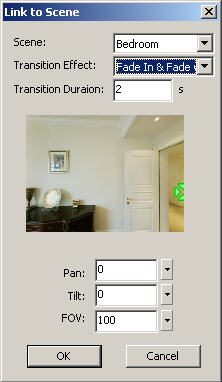 Scene: The target scene which is to be switched to.
Transition Duration: The period for switching from one scene to another. The default value is 2s. And the range is from 1s to 20s.
Transition Effect: The transition effect when switching from one scene to another. If Walk through is selected, you can see the following setting window and you can customize the effect.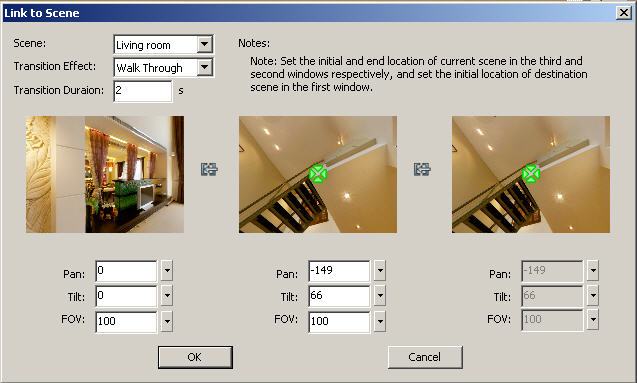 In the first window, you can adjust Pan, Tilt and FOV of the target scene and set the target position of object scene when switch by hotspot.
In the second window, you can adjust X, Y and Zoom Level which are for the ending position of the current scene.
In the third window, you can't adjust the parameters which are for the starting position of the current scene.
By such settings, you will feel as if you're walking through the scene when hitting the hotspot.
Link to Other Image
You can add Pop up Image action to Hotspot. After this action is added to hotspot, when clicking on the hotspot, the relative image will be shown in a popup window right beside the mouse. The setting window is shown as below: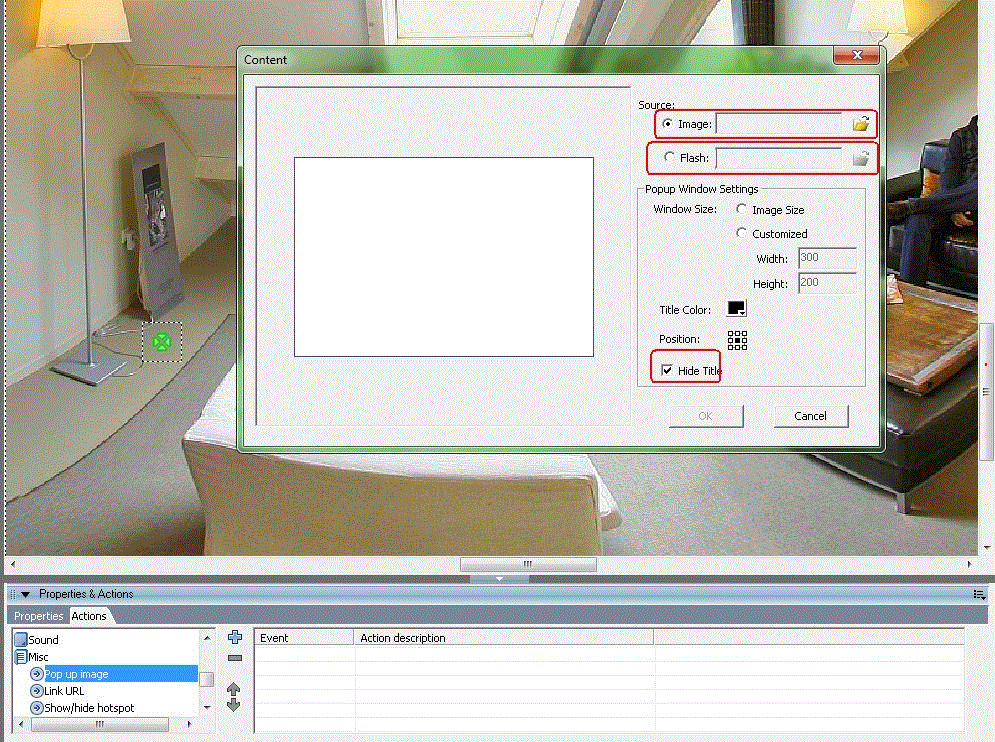 Tourweaver 7 supports not only bmp, gif and jpg formats, but also flash file like swf format.
Choose the right image or Flash you're going to show in the popup window.
Set popup window size. You can choose Image size which is in the same size with the selected image. Or choose Customized and define the width and height of popup window as you want.
What's more, you can also customize the color of popup window title bar via title bar setting , Window Background Color, etc. You can choose "hide title bar" by choose 'hide title bar' setting .If you choose 'Hide title bar', after you view this pop image and want to close it .Just click any part of the image.
Also you can specify the popup position by Location setting.
Tips: For flash popup image, you may ceate more interactive effect. Like multiple tabs in one popup image.
Note: In flash viewer, the popup image window has the zoom in/zoom out effect.