Add Components on Popup Window
How to add components on Popup Window
1. Click on one of the tools (components) from Toolbox
2. Click the blank part of Popup Window to place the button.
Note: In one project, Map Viewer can only be added once. That means map viewer can't be added to popup window if it has already been added to main window unless deleting it from main window.
General Operation on Component
Using Ruler, Guide Line and Grid; Add and Delete; Copy and Paste; Move and Lock; Layout; Group
Tip: Right click on Popup Window, the context menu will appear to enable some functions like below:

Tip: After changing the location or size of a popup window, the components added to popup window will change position accordingly. See below: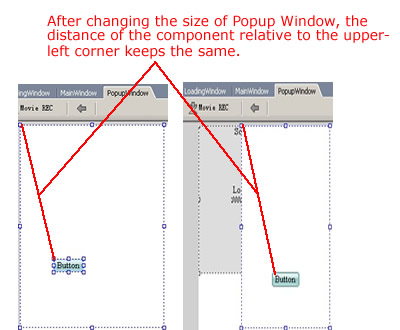 The added component stays in the same position relative to the upper-left corner of the popup window.
Set Properties & Actions for Component on Popup Window
After adding components to Popup Window, you could edit the added components to set the location, size, other properties and actions of them. Select the added component you want to edit, then:
To set the properties in the properties panel, refer to Properties and Actions Panel
To move, layout, paste or delete component, refer to Component
To add an action to the component, refer to Set Button Action.
Tip:
1. To select a component, do one of the following:
Click the component in the Popup Window directly.
Click the component in the Object panel.
2. To select multiple components, do one of the following:
To select contiguous components, Shift-click them in the Popup Window or in Object panel.
To select discontinuous components, Control-click (Windows) them in the Popup Window or in Object panel.
3. Access Edit>Select All or right click menu or shortcut Ctrl+A to select all the components.
How to add video and online video in pop window?
Tourweaver7 not only supports adding video but also online popup video.
1. Add a popup window
2. Drag

to the pop up window
3. Then choose the video you want to add from your folder.
4. For online video ,please add video url in the setting Take popup3 and popup4 as an example.

How to copy and paste components between popup windows?
Take popup3 and popup4 as an example.
1. Click on PopupWindow4, under the object panel, the components on popup4 will display, right click on textarea, and select Copy from the right-click menu.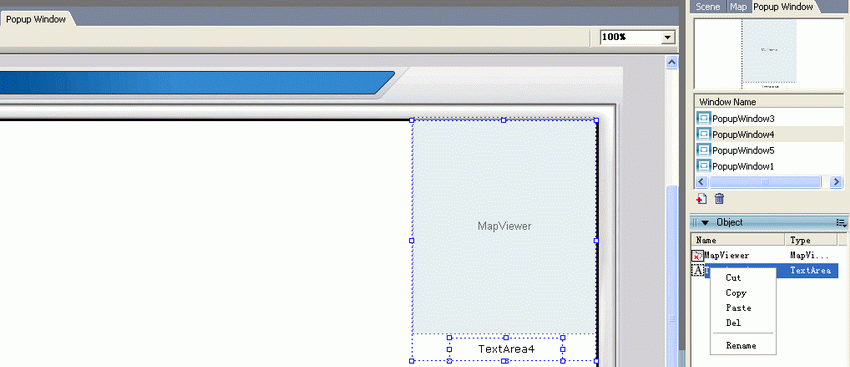 2. Click on PopupWindow3, right click on the blank area of the object panel, and select Paste, then the textarea component will be pasted on PopupWindow3.