General Page
Whether you publish the tour to flash format, you can go to General page to make publish settings.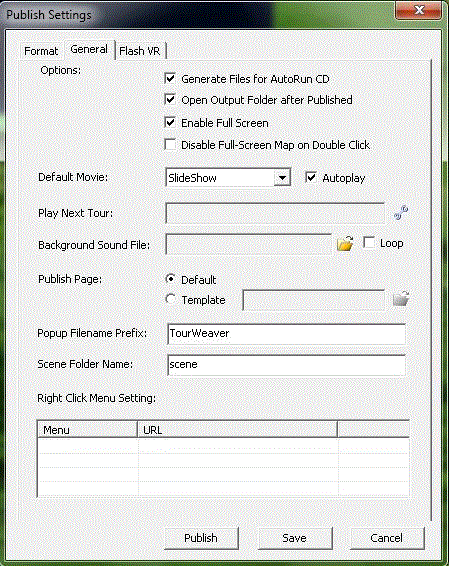 Generate Files for AutoRun CD: When this is selected, an autorun.inf file would be generated after publishing. This file together with the whole tour output is to be burnt onto CD. Then the virtual tour on CD can be autorun.

Open Output Folder after Published: When this is selected, the output folder will be opened automatically after publishing.

Enable Full Screen: Allow full screen mode when running virtual tour. Deatils for Full screen setting: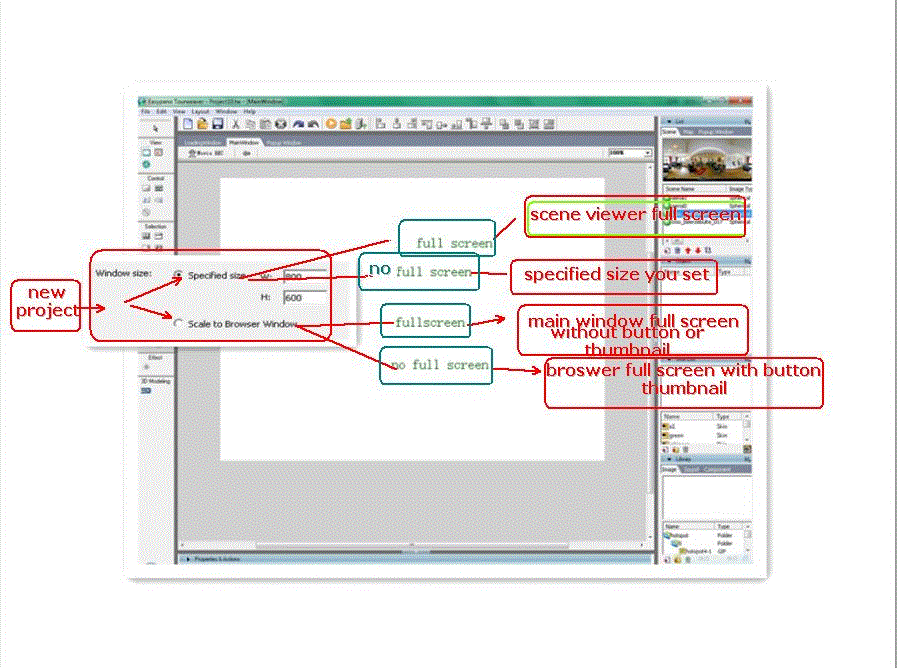 Steps to make main window full screen
Note: Only the scene will be in full screen. All the other parts of tour skin would be hidden. When Show Toolbar is selected, then the toolbar would also be shown in full screen. The tour map will be displayed at top right corner when in full screen.
Show Full Screen Toolbar: Only when 'Enable Full Screen' is selected, this item will be enabled. If this is selected, then the toolbar will be displayed as default under full screen. You can also show/hide the toolbar by right click the screen and use the popup menu. See the following:
Note: In Tourweaver 7, the full screen toolbar can be customized. You can make your own toolbar skin in .fla format and copy it to the resource folder in the Tourweaver installation directory.
Default Movie: Set the movie which is to be run as default after tour loading.
Play Next Tour: You can link the current virtual tour to another tour here.
Quality: Set tour quality
Background Sound File: Add background sound for the selected movie.
Output Files Organization (Pro only): To set the mode how the virtual tour output files are organized. There are two options as below:
In separate file folders: If selected, when you publish two tours at the same time, the output files of the two will be in separate file folder.
Share partial resource (player): If selected, when you publish two tours at the same time, some output files could be shared like twviewer.swf, swfobject.js etc.
Publish Page: Contains default and template. For more, please refer to Publish Tour with a Template Html
Popup Filename Prefix: Set the prefix for popup file name.
Scene Folder Name: It's the folder where the scenes are saved.
VT Thumbnail Size: To define the size of the tour thumbnail which is shown on the instruction html after the tour is published.
Add Company Name to Right Click Menu: Customization of right click menu of player is possible. Input URL link as you like.