Component Library
Component library is a little different from Image library and sound library.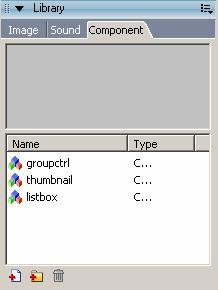 It's used to store those components which are already edited. For example, you've set a button with perfect three states images and an action of turning right. Then you can save this button to Component library. Next time, when you want to add such a button, you can directly apply this button from Component library.
Besides single component, you can also add component group to library. For example, there is a group containing left button, right button, up button, down button, zoom in button and zoom out button. You can add this group to library so that it can be directly used from library instead of making from scratch.
Add component/group from library onto MainWindow
The steps for adding component/group from library onto MainWindow are as below:
Select the component/group which you want to apply from library like Button.
Keep pressing the left key of your mouse and drag it over to MainWindow.
Release your mouse and the component/group is applied onto MainWindow.
The steps for adding component/group to scene and map are same with the above.
Note: The hotspot component from Library can only be applied to scene or map; while Radar can only be applied to map. The other components can all be applied onto MainWindow.
Add Component/Group to Component Library
Before adding component to library, it should be edited in tour. Hence the steps are different from image and sound.
Take button component as an example:
Select the button you're going to add into library on MainWindow.
Right click and choose Save to Library from the popup menu.
Type the name for the button and choose the directory to save it in the popup setting window. Click OK. The button has been added to Component library then.
Note: After you add the component to library, all these connections to scene, map or movie will be lost then. For example, there is an action of linking to scene A in a hotspot. After you add this hotspot to library, the action will be lost.
Delete Component from Library
You can delete component from Component library. As to how, see Delete image from library
Organize Component in library
You can organize these components in library. As to how, see Organize images in library.