Activate
To fight against piracy and better protect Easypano copyright as well as user's interests, we adopt a stricter license policy. Easypano customers have to activate the product to make it fully functional. The Easypano Product Activation System does not collect or utilize personal information, such as your name and contact information. Product Activation is completely secure and anonymous. No personal information is ever collected or requested. During activation, the product does not scan your hard drives or collect any data other than the minimum information required to verify your license. Please see our Privacy Policy.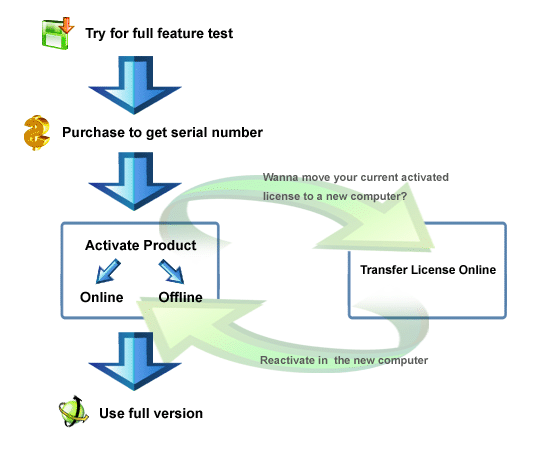 Online Activation
If the computer you are running Easypano software is connected with Internet, please proceed with the online activation. Activation over the Internet is a one-time operation. Simply enter your product serial number and activate for full use in seconds, secure and anonymous.
Note: Online Activation requires network card and Internet connection.
Start Tourweaver 7
Choose online activation in the popup window and then click Continue
Input the license key which you've purchased and click Continue
The online activation is accomplished.
Offline Activation
In case you need to run Easypano products in a computer with no Internet connection, you can find some other computer with Internet available to activate the product via Email or Easypano website submission. Since Internet is quite pervasive nowadays, we assume all the customers can access the Internet by certain means, either in a net cafe, or another computer.
Basically offline activation still requires internet connectivity, however not necessarily in the computer running the software.
A general procedure for offline activation:
Start Tourweaver 7
Choose offline activation in the popup window and then click Continue
Choose step 1 to create an ARF file and click Continue
Input the license key you've purchased and select the right directory to save this ARF; and click Continue
An ARF file is created and saved in the relative path
Click the link http://www.easypano.com/activation.html to open the registration html page. Fill out one or two available Email and upload this ARF
An ALF file is created and sent to the relevant Email
Login your email-box and save this ALF to your local
Restart the activation procedure from Help menu.
Choose offline activation; and click Continue
Choose step 3 and click Continue
Import ALF to activate the software and click Continue
Offline activation is accomplished
Note: Offline Activation requires network interface card installed.
Please make sure the computer in which you install Tourweaver 7 and create Activate Request File, meet the following requirements.
1. Network card is installed.
2. TCP/IP protocol is installed.
3. Network card is not disabled.