A Quick Nodal Point Test
Acid Battery Test for the Nodal Point.

To determine your nodal point.. try this approach that seems to work with very near and far targets.

take a 8 x 10 piece of paper and set near the edge of a table. Get a set of 4 batteries. Place 2 at the back end of the paper. Place the other two on the nearest end of the paper. Set your camera up right at the table edge and raise the lens UP about 5 or 6 inches above the table plane, so that you can see both sets.

Then with the compact flash card in the camera take 3 each FE 2 images - 1 straight ahead with the back battery tops directly over the top of the nearest set of batteries. Then ROTATE the camera LEFT take a shot -- RIGHT take a shot.

You will know when you have located the nodal point.. When ALL 3 image - THE BATTERIES DO NOT MOVE POSITION.
If the batteries do move postion.. relocate your camera forward or backward on the panorama head.. and repeat image test.

Below is a composite of 3 images.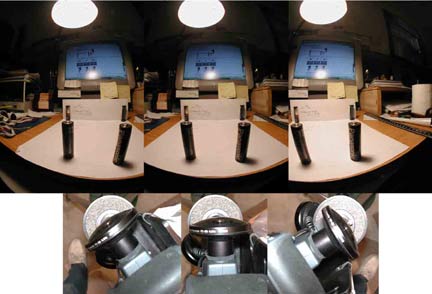 For more details please see:
http://www.panoramas.de/panoramas/html2e/tips.htm
---
/s/
Dave
Forum Moderator for
EasyPano - Panoweaver
Pano2VR

Visit 360texas.com