Pano display HDTV inside Sock drawer.
Maybe a year or more ago I was discussing the new Hi Definition 16.9 monitors and how they might affect our panoramas. Took me a while before I could do some testing (early Christmas). While browsing through many electronic shops I did notice the increased number of notebook and desktop monitors that are displaying the 16:9 ratio imaging.
The question is.. how best to adjust our panorama viewer dimensions to minimize barrel distortion or will we need an updated panorama applet to adjust to the new viewing area.
Please excuse my SOCK DRAWER. I was using it to hold my older notebook 4:3 ratio screen .
The Sony LCD HDTV as shown here has a display resolution of 1366 x 768 pixels when used as a monitor. The Sony laptop is displaying at 1024 x 768 pixels.

In image #1 you can see above the 4:3 image on the 16:9 ratio screen. Notice how much screen area is NOT being used.
Image #2 you can see the 4:3 image stretched to fill the 16:9 ratio screen. When this happens the barrel destortion is increased.
Any thoughts? Comments?
Dave
Image #1
Image #2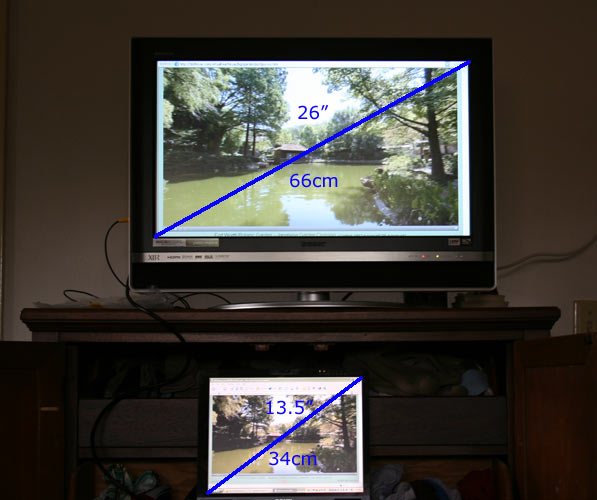 ---
/s/
Dave
Forum Moderator for
EasyPano - Panoweaver
Pano2VR

Visit 360texas.com