Hi Kevin,
Yes, the RingT8S, RingT8S_Trip (Bracket), and Three38 are separate and needed items.
The top thread on the MrotatorHDelta is standard 3/8" just like your standard tripod. Saying this you could mount your MrotatorTCPS on top of it. BUT! I feel it would be too heavy and you would be at risk of causing injury to yourself and/or equipment. Maybe with a very light panohead like the Nodal Ninja 3 you could do this allowing for up and down shots (Zenith and Nadir) but the pole would be going up and down to adjust. (You would also need to "lock" the panohead) because the rotation is done via click stops on the foot rotator.
The weight I feel would be an issue because the sections are compression or friction fit if you understand my meaning.....
Believe me you don't want 2 or 3 kilo's coming down on you from 6 meters.
I'm hoping to shoot more this weekend if the weather is fine and I also have a Nikkor 10.5mm Lens coming early next week for more panorama fun.
Regards, Smooth
---
Quote: Originally posted by Crafty on August-11-2006

---

quick question smooth

On my 360 the whole pano "shimmers" as you pan round whereas yours doesnt. Can you tell me why and how to cure this - is it just the motion quality setting (pano2qtvr)

Thanks
Crafty

---

Crafty,

Apart from your image being a little over-sharpened I had another though.

Using Pano2QTVR I set the "Motion" setting to High and "Static" to Max.

This might be all you needed to know?

Regards, Smooth
---
It has just come to my attention that the MrotatorHStarter (as apposed to the MrotatorHDelta) is a "Stackable" fibreglass pole configuration (where you place one section on top of another) and can go up to (6) meters like the Telescopic MrotatorHDelta. (or you can use it as Telescopic to (3) meters) So this version has it's merits and double use. Please see the QT movies on the www.agnos.com webpage where two people are involved lifting the MrotatorHDelta pole as an example on how this works.
Regards, Smooth
---
Hi, we are going to try that tomorrow. Originally we thought the HS just telescoped out to 2m 66cm length [9 feet]. This does provide for a very stiff pole and elevated platform.
We had not thought about removing each pole segment.. and cone stacking them. Tomorrow we will try and see if we need to actually use all the pole segments. For sure we will need the base and tip end segment. Varying the pole height will depend on how many middle pole segments we will use.
This might turn out to be working with a variable height pole. Our concern was having the pole segments collapse under the weight of a very heavy camera. But not so.. if they are cone stacked. The bearing weight is supported very well.
The key technique here is that the RingT [and SET for no parallax point] with the Mrotator HD, HS should produce the desired results at most desired elevations.
This really is a desirable solution for Elevated VR HD Solutions (HD).
More to follow
---
/s/
Dave
Forum Moderator for
EasyPano - Panoweaver
Pano2VR

Visit 360texas.com
Hi Dave,
Yes, I was confused.
I spoke about this with Agnos and finally with the language barrier sorted we agreed that the term "Put-Over" meant "Stackable" and now the website has all three models listed with correct terms. I do not think you will be able to get variable height as each segment is designed to fit the one before. (But I haven't yet tested this) My confusion came about because of the way the MrotatorHD works, so I figured the MrotatorHS would be the same (but it is not).
Your concerns about the telescopic method collapsing are well founded as I had this happen. Extra care must be used. Solutions are being sort for final improved design and instructions.
The MrotatorHS is perhaps the better solution allowing the use of both Stackable pole to (6) meters and Telescopic to (3) Meters (approx). Either way you look at it, this systems allows a unique camera perspective at an affordable price.
Looking forward to seeing your shots.
Regards, Smooth
---
Yes. Agnos and I have been exchanging email for last few months. Yesterday he told me to be careful and about using tape at each joint for the HD.
I guess the tape is a temporary fix.
Today we will use the HS and Ill let you know
---
/s/
Dave
Forum Moderator for
EasyPano - Panoweaver
Pano2VR

Visit 360texas.com
A view from the Mrotator HD TOP Elevation 6 meters 26 cm [ 20.5 feet ].
It is NOT on my website yet, but I thought you might be interested in seeing these two shots. You can see the 20d/ Canon 10-22 at 10mm and tripod sitting on the deck taking photo of pole. A 350d/ Sigma 8 are mounted at the top of the HD looking down. You can see small red dot at bottom.. that is the pole base location.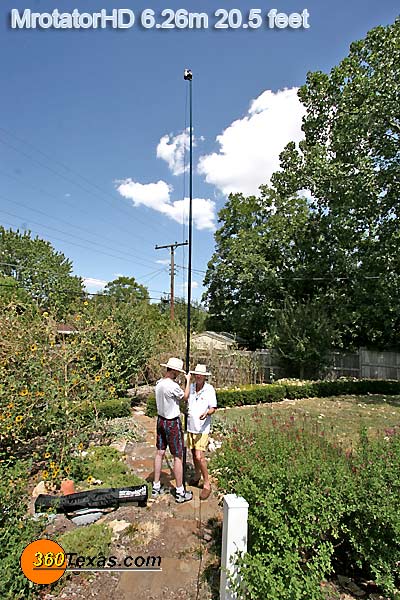 Looking down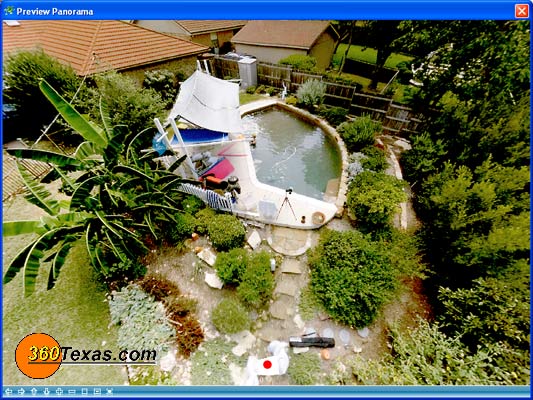 ---
/s/
Dave
Forum Moderator for
EasyPano - Panoweaver
Pano2VR

Visit 360texas.com
Hi smooth,
Planning ahead ....
As you know, I just placed my order for the Kit4 TCPshort ringT8S for my Sigma 8mm f/3.5.
Would I need a new set of the ringT, foot plate, etc. to use with the pole or can I use the ringT8S from Kit4?
Would using the ringT8s from the kit mess it up?
Thanks,
eagle
---