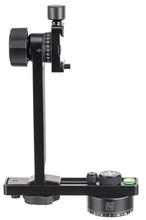 RS-2 Ring Mount Spherical Pano Head Starter Package (F9710)
Shipping:
Calculated at checkout (

Free shipping within the U.S. and Canada

)
Buy
Nodal Ninja RS-2 Ring Mount Spherical Pano Head
The difference between RS-1 built off the NN3 is the RS-2 is built off the NN4 and incorporates 15 degree upper rotator positive stops. The RS-2 is designed more for larger cameras. The only difference between RS-2 and NN4 starter package is the upper rotator incorporats an arca-swiss style clamp rather than an upper rail. Nodal Ninja RS2 is a multi-row ring mount spherical pano head to companion R1/R10 for lens ring mount users. It allows zenith and nadir shots at the NPP (No-Parallax-Point) and makes stitching of multi-row pano an easy job.
Our single-row lens ring mount pano heads, Nodal Ninja Ultimate R1/R10 have become a great success since their release. They have become the excellent choice for a ultra compact and light weight setup for users of circular or cropped circular fisheye lens which has an angle of view close to or above 180 deg vertically or horizontally. However, for full frame fisheye users, their application is restricted to scenes with easy to patch zenith (top) and nadir (down) shots, due to their single row nature. The patching also requires higher skills in stitching and post processing.
Lens ring mounts have NPP settings independent of the camera bodies making the sharing and verification of NPP setting a much easier task.
Includes:
Standard NN4 rotator
15/0 degree reversible detent ring
45/60 degree reversible detent ring
Lower Rail
Vertical Rail
Upper Rotator with Arca Style Clamp
Case
Lens ring sold separately ($109.95).
---
NOTE: WHILE WE INCLUDE QRG FOR LENS RINGS, THE USER GUIDE FOR RS-1 IS NOT YET AVAIALABLE.
FOR QUESTIONS IN SETUP, PLEASE VISIT Nodal Ninja FORUM
Warranty:
All pano heads come with full 2 yr Warranty protection against manufacturer defects by Nodal Ninja.
If any question, welcome to contact Easypano customer support via Help Desk.

Shipping:
The products will be delivered from American manufacturer-Nodal Ninja (Free shipping within the U.S. and Canada).
Note: This price does not include tax, shipping cost and other handling fees.