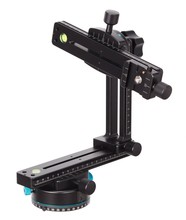 Ultimate M2 with RD8-II Rotator (F8001)
RRP:$869.95
Shipping:
Calculated at checkout (

Free shipping within the U.S. and Canada

)
Buy
Description
Videos
Images
New Ultimate M2
Nodal Ninja Ultimate Modular System is based on Arca Swiss compatible system, the industry standard for high end photographic support. The M2 is a design with many years of refinement, integrating years of feature wishes from customers. It fills the gap of Nodal Ninja product line for photographers making high resolution panos or mosaics with super telephoto lenses. Furthermore, it can act as a gimbal arm for smooth rotation of heavy telephoto lenses at its center of gravity.
Features and Highlights:
Modular design means easy upgrade from previous model and to future models.
Support long telephoto lens up to 3kg (6.6 lb) in weight.
Full bearing loaded rotators for smooth and steady rotation.
Upper rotator with adjustable friction to serve as a gimbal arm.
Upper rotator with laser marked index ring with fine 2.5° intervals.
Upper rotator upgradeable (optional) with precise positive stops up to 1.5° finest intervals. (Coming late 2013)
Upper and lower rotators with indicators for starting and ending positions, ideal for making mosaics with a large number of images. Photographers can first compose the mosaic, then set the starting and ending positions horizontally and vertically. The indicators will make sure no images are missed and no excessive images are taken.
With RD8-II (precise click stops at 30°, 15°, 6°, 5°, 4°, 3°, 2.5°, 2°) to support up to 700mm equivalent focal length with camera in landscape orientation, or 465mm equivalent in portrait orientation.
Precision CNC machined from aircraft T6061 aluminum and anodized, meaning high precision, accuracy, durability and long lifetime.
Total weight of M2 w/RD8-II = 3.75lbs
Note: EZ-Leveler-II and advanced rotator RD3L not recommended for M2 when heavy tele lens is used.
MFG Part No: M2RD8II.
User Guides and Manuals:
QRG - M2 Series Gimbal Head Pano Head w/ RD8-II or RD16-II.pdf
---
Warranty:
All pano heads come with full 2 yr Warranty protection against manufacturer defects by Nodal Ninja.
If any question, welcome to contact Easypano customer support via Help Desk.

Shipping:
The products will be delivered from the American manufacturer-Nodal Ninja (Free shipping within the U.S. and Canada).
Note: This price does not include tax, shipping cost and other handling fees.
Ultimate M Series Out of the Case Quick Assembly (02:14)
When you receive your Ultimate M Series 1 or 2 Series pano head many of the parts are already assembled for you. Here we show you how to assemble the head quickly right from the case. Link to optional rail stops - http://z10a.com/ZmFWe2Link to Arca-Swiss style camera plates - http://z10a.com/17bmvbbM Series accessories - http://z10a.com/112SCoGFanotec's Ultimate M Series Modular Panoramic Tripod HeadsStrongest, "Repeatable Results", Arca Style Modular Design, Upper Rotator Lock Stops (M1) Popular Uses: Landscape, Cityscapes, Gigapixels, Commercial, HDR Level of Experience: Semi Pro - ProCameras: DSLR's, Medium Format, some Large FormatLenses: Portait mode up to 400mm - Landscape mode up to 750mm