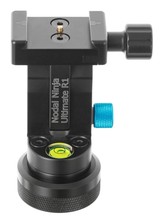 Ultimate R1 Adjustable Tilt Ring Mount & Rotator Mini Package (F6161)
Shipping:
Calculated at checkout (

Free shipping within the U.S. and Canada

)
Buy
We've made it smaller and lighter. Instead of the RD5 rotator, we developed a smaller rotator.
The R1 is designed for use with circular and full frame fisheye lenses such as the Sigma 8mm or Nikon 10.5mm lens along with many other popular fisheye lenses. The R1 pano head incorporates a unique cantilever tilting option suitable for different fisheye lens on different sensor formats under different applications. The ring clamp mounts directly onto the lens itself freeing up the camera. Different cameras can be use on the same lens without adjusting any settings.
Features:
Ideal for pole photography and/or use with monopod
Arca Swiss Compatible quick release design.
Rolling the camera/lens in any position including the popular 0, 60 and 90 degree positions.
Lens clamp permanently mounted to lens making reproducible mounting possible, and much quicker to setup.
Different cameras can be used on the same lens without adjusting any settings.
Compact and light weight great for use on monopods and high poles.
Small nadir footprint.
Built-in spirit level.
Optional spirit level that allows rotation to the side and back for better viewing.
Optional rail stop that is integrated into the Lens Ring Plate.
Rotator Mini Features:
Compact and light weight, 46mm diameter and 88g (vs RD4 220g).
Smooth rotation with lubricated bearings.
Interchangeable detent ring.
Available detent rings, 90 deg, 60 deg, 30 deg, 36 deg (one option for each ring).
Rotator lock for use on pole.
Compatible with Nodal Ninja Ultimate R1/10, Fanotec Foot Plate and Tripod Adapters.
NOT compatible with Nodal Ninja 3/4/5 or Ultimate M1 or the Quick Mount Mini. Rotator Mini not designed to be used with R1/R10 Nadir Adapter.
Weight: 353 grams.
Includes: R1, RM, Ring Clamp, Case, 3/8-1/4 threaded adpater, hex key.
User Guides and Manuals
All User Guides and Manuals (html, pdf, doc) - click here
QRG - Ultimate R1/R10: html .:. pdf
Warranty:
All pano heads come with full 2 yr Warranty protection against manufacturer defects by Nodal Ninja.
If any question, welcome to contact Easypano customer support via Help Desk.

Shipping:
The products will be delivered from the American manufacturer-Nodal Ninja (Free shipping within the U.S. and Canada).
Note: This price does not include tax, shipping cost and other handling fees.