Panotools
Panotools are tools that are related to building and viewing panoramas.
Easypano has developed panorama stitching software Panoweaver, which is well received among photographers. Panorama2Flash is a new product of Easypano for publishing panoramas to Flash, which is simple but quite useful.
Panoweaver is a professional panorama tool that stitches spherical panoramas from any type of images including fisheye images and normal digital photos and publish the panoramas to Flash, Quicktime and Java. The stitching process is like this:

More image types that are supported by Panoweaver
Then Panoweaver publishes Flash, Quicktime and Java panoramas, see Flash example below: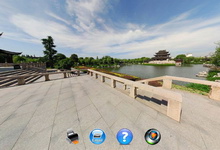 Panorama2Flash is a Flash panorama publishing software, which batch publishes full screen Flash panorama from spherical and cylindrical panoramic images. See following cylindrical Flash panorama example:

Download full featured trial version!