Stitch A Photo
To stitch a photo using Panoweaver is easy and fast. Shoot fisheye images with your digital camera, fisheye lens, rotator and tripod, and stitch them into a high quality 360*180 degree spherical panorama with Panoweaver.
Panoweaver stitches images of following types:



Panoweaver stitches images automatically. The stitching process is quick and precise. Completed panoramas can also be published into Flash, Quicktime and Java format.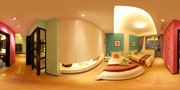 Download full featured trial version!