Panorama Tool
Panorama Tool - Panoweaver stitches 360*180 spherical panoramas and publishes full screen Flash/Quicktime/Java-based panoramas, and standalone swf panorama.
Any type of photo can be stitched with Panoweaver. Fisheye type like circular images, drum images and full frame images are easily stitched into a 360 degree spherical panorama. Wide angle and normal photos (either single row or multiple rows) can be stitched into cylindrical panorama.
After panorama stitching, you can also publish the panorama into various immersive formats like standalone SWF, html based Flash VR, QTVR. Hotspot, progress bar, control buttons can be added to the panorama.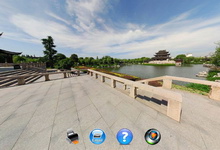 More advanced features are supported in Panoweaver, like HDR panorama stitching, Batch processing (in Batch edition) and etc.
Download full featured trial version of the panoramic software!