Easypano Panoweaver and Tourweaver are the ideal solution for real estate business. Real estate clients will find answers in Easypano solution on what they concern most.
Q: How can I post the virtual tour created with your software to Realtor.com?
Q: Do you have any real estate clients for my reference?
Q: How does virtual tour benefit my business?
Q: How can I create a virtual tour?
Q: Why shall I choose Easypano real estate solution?
Access Realtor.com
We have joined the PicturePath® Link Program, and you can access Tour Hosting platform to host your virtual tours and post the virtual tour links to Realtor.com.
Tour Hosting platform gives real estate agents and tour providers the ability to manage, publish and share their virtual tours from any internet enabled PC. Intuitively designed for ease of use so there is no need to be a technical wizard.
All Tourweaver tour features are fully supported and can be easily uploaded to the Realtor.com using our automated system. Simply upload your Tourweaver tour files to the Tour Hosting server and select the Realtor.com option. Get more exposure for your tours with just a few clicks.
1. Cost of Tour Hosting service and posting to Realtor.com
$29.95 for monthly subscription of Tour Hosting service for unlimited virtual tours, 6-month and 1-year subscription will save more;
No set up fee;
Posting virtual tour link to a Showcase listings is free;
Posting virtual tour link to a Non-Showcase listing cost $25, order Realtor.com Posting License before posting.
2. How to upload my virtual tours to Realtor.com?
You can upload your Flash virtual tours created with Tourweaver 3.00 and later versions. Login Tour Hosting user panel, and select Upload a Virtual Tour and upload the tour in zipped format. Publish your virtual tour. If you are not an active subscriber, the tours can not be published (hosted) in Tour Hosting server.
Only tours that are successfully published can be posted to Realtor.com. Select Post to Realtor.com option under Tour Management menu, and select a virtual tour to post.
Featured Real Estate Customer
| | |
| --- | --- |
| | Sutton Group - Professional Realty is the 1st residential real estate company in Atlantic Canada, 2nd in Canada, 4th in North America, and the 11th in the world to become ISO certified. |
"I've been in the real estate business for 8 years. Due to our location on the eastern shore of Canada, this region is a major entry point for immigrants moving to our country. About 60% of my real estate clients are from Canada and the remaining are from all over the world, Europe, Asia, Africa, Russia....ect. I deal with properties ranging in value from under $100,000 up to $1,000,000 (Canadian dollars)
"At first I was strictly doing virtual tours for my own clients. Other agents in my company notice some of my virtual tours on the Internet and asked me if I would do virtual tours for them. I'm now doing virtual tours for several real estate agents our region. I use a Nikon digital camera with a Kaidan bracket. So far I've probably done some 2,000 + residential virtual tours and I also did a few commercial virtual tour projects recently.

"I shoot panoramic photos and make virtual tours for my clients and some of my colleagues. The feedback that I get is always very positive and encouraging. Home owners are always very pleased to see the virtual tours of their homes on the internet. I know of a few home buyers that flew several thousand miles (or kilometers) specifically to purchase a home after seeing the virtual tours of it on the Internet."
Mr. Andre Beland, a real estate agent works for "Sutton Group Professional Realty", the most successful and largest real estate group in Canada.
Please visit our showcase to see more real estate clients story.
How does virtual tour benefit my business?
Virtual tours are efficient and effective speakers for the properties you are selling.
Bring more website traffic
An interactive virtual tour impresses the viewer deeply and keeps them on your site longer. "Virtual tours have proven to be one the most popular enhancements to online listings. They are also among the most productive, with consumers viewing listings with tours 40% more frequently than listings without tours, according to Realtor.com's internal logs."
From Virtual Tours: Encircling Leads by Jonathan Greenblatt

Increase revenue
Virtual Tour enhances the value of your internet presence. It is a key factor to gain new customers and retain old customers. A Virtual Tour has been proven to be the most effective tool for marketing. It ultimately increases your revenue by turning website hits into real life customers.
Decrease Cost
Traditionally, millions of personal meeting, billions of calls are made before the deal is done. Now you won't need to do this. Simply make a virtual tour demonstration, and then the clients are convinced. Virtual tours help bridge the ocean and the different time zones. The whole business process is speeded up. No expense for calling, transportation, even dinner. It just saves your money and time.
How can I create a virtual tour?
Step 1: Shoot fisheye image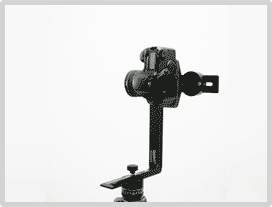 Step 2: Stitch Panorama in Panoweaver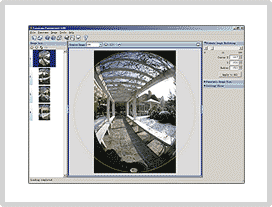 Step 3: Build virtual tour in Tourweaver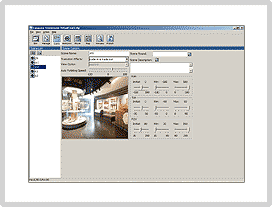 Why shall I choose Easypano real estate solution?
Easypano's flagship products, Panoweaver and Tourweaver interpret Easypano's value in these aspects.
Unique virtual tour presentation
Interactive map/floor plan with compass indicator
Guided walk-through
Personalized viewer skin
Music, voiceover, graphics, text and many other elements can be added
Time Saving
Making a high resolution panorama in less than three minutes; creating a virtual tour only takes an hour with Tourweaver.
Easy-to-use software with no special html or website knowledge necessary. You don't need to be a techie person before using it.
Low Investment, High Return
Easypano solution: $2000 or so
Per virtual tour pricing: $300 or so
Assuming you make 2 virtual tour each month, the annual revenue would be 2*12*300=$7200.